Are you interested in having your own Gigatron? We make it available as a do-it-yourself kit so you can make one yourself! The kit includes:
All the electronic components (ICs, passives, LEDs, connectors, etc.)
The circuit board (PCB)
Software v3 pre-programmed in the EPROM chip. See the user manual to get an impression. It also contains TinyBASIC v2 as reviewed by The 8-Bit Guy.
A cool retro game controller
A mini-USB cable so you can power the Gigatron from a computer or USB power supply
A shiny case with plexiglass window, specifically designed to hold a Gigatron and to show it off
A full-color ring-bound manual with detailed steps describing how to assemble the Gigatron, a course in soldering, hardware schematics and more!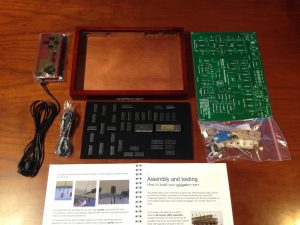 As a promotion, we're adding, at no additional charge, a beta version of the Gigatron PS/2 keyboard adapter "Pluggy McPlugface", as shown below after assembly. It supports six international keyboard layouts: US, UK, German, French, Italian and Spanish.
The only things you need for assembling all of the above is a soldering iron, solder, a multimeter and some patience. Have you never soldered before? Don't worry, the assembly manual that comes with the kit will guide you through the whole process. You can also take a look at the series of videos where Walter shows the whole process: from unboxing to playing games, step by step, you'll get there. Think of it as building a 150-piece LEGO kit.
If, after watching the videos, you're unsure, we can recommend that you test your skills with a small project before embarking on the Gigatron. For example, Conrad sells a little kit for practicing. There is also a similar Velleman MK102 kit that you can buy at several places such as Amazon. See the FAQ to read more on options if you're not comfortable soldering one yourself.
Pricing
The official price for the complete kit is €149,50 excluding shipment.
This is the same as the discounted introduction price for the original series. We sold out the first series a lot faster than anticipated. For the current series we managed to get better component prices by buying more, so we decided to keep the effective price unchanged.
Upgrading
Our early adopters can get the "Pluggy McPlugface" PS/2 keyboard adapter mini-kit for €10,00 including shipment. We'll throw in an EPROM loaded with ROM v3 as well. This version brings Tetronis, Bricks, Tic-Tac-Toe, Tiny BASIC v2 and WozMon as shown in this episode of The 8-Bit Guy:
Shipping
We ship Gigatron kits by registered mail that includes tracking and insurance. Shipping rates are currently:
Netherlands: €9.50
Rest of Europe: €21.50
All other countries (USA, Canada, Australia, …): €29.50
If you order from outside the European Union, please keep in mind that duties might be added by your country's customs. These are normally collected separately by the courier. We don't have control over that. So far, we didn't get reports on any import duties charged for kits shipped to the United States.
If you're in the Netherlands you can also arrange to pick one up. Walter lives in Eindhoven and Marcel in The Hague.
Payment methods
If you are in Europe, the easiest is probably an international bank transfer without additional costs, thanks to IBAN and SEPA.
This option is possibly a bit expensive if you live outside Europe. So we will also be accepting PayPal, but we charge €8.00 to help cover for the PayPal fees. We're also not afraid to accept Bitcoin. Just ask.
Ordering
You can order a kit by simply sending an e-mail to info@gigatron.io stating that you want to buy one (or a few…). Please include the following information:
Your country and shipping address,
Your chosen payment option (one of PayPal, bank transfer or Bitcoin),
And optionally your phone number for on the packing slip.
One of us will reply with a quotation for your order: the costs for the kit, shipping and optional payment charges, all as listed above.
We do have regular day jobs, so we can't alway reply immediately. However, if we don't seem to reply within one or two business days, please check your spam filter.
Follow the payment instructions we provide. In principle we always keep some stock so we can ship once we've received the payment. We typically make the trip to the post office once a week. In case we're out of kits we'll let you know when we expect to have new ones available. This will also be listed on this page (see below). We ship by registered mail with tracking. Once you have received your kit you can assemble it on a rainy Sunday afternoon.
Stock
We have plenty of stock for making new kits and we're taking orders. Last update: December 24, 2018