Gigatron as a kit
We have made the Gigatron into a kit and sold these from March 2018 until June 2020.
SOLD OUT – NO NEW KITS WILL BE MADE BY US

All we have left is a handful of Pluggy McPlugface kits with EPROMs. They are for sale on Tindie. Once they're gone, we will not produce any more.
Are you interested in having your own Gigatron? There are still two options. Note that we do not offer support for these builds.
Buying one
A Dutch firm is selling basic kits (PCB and components including pre-programmed EPROM only, so without controller, manual, enclosure). (We are not affiliated and do not earn anything from it.)
An Australian firm is selling PCB's (both the main board and the Pluggy McPlugface PCB).
Building one
You can build one yourself! This is what you need:
All the electronic components (ICs, passives, LEDs, connectors, etc.) The list can be found in the Bill of Materials.
The printed circuit board (PCB). For this you need the design files. Send these to a PCB manufacturer to have it made.
Software will need to be programmed in the EPROM chip using a programmer. The software contains
The shiny wooden box, custom designed to show off the Gigatron is no longer available and will no longer be made. You will have to figure out something yourself. Maybe use a 3D printer?
The manual with detailed steps describing how to assemble the Gigatron, a course in soldering, user instructions, hardware schematics and more is also available online.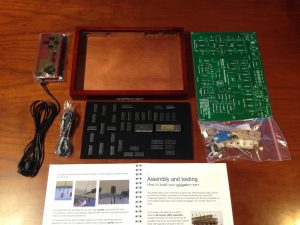 Then there is the Gigatron PS/2 keyboard adapter "Pluggy McPlugface", as shown below after assembly. It supports six international keyboard layouts: US, UK, German, French, Italian and Spanish. The parts for this are in the BOM already mentioned. The PCB layout is available online as well. The software for it is also online.
Prerequisites
The only tools you need for assembling the above are a soldering iron, solder, a multimeter and some patience. Have you never soldered before? Don't worry, the assembly manual that comes with the kit will guide you through the whole process. You must be able to understand English, follow instructions and pay close attention to details when placing components. Successful soldering also requires good eye sight, hand-eye coordination and manual dexterity. You can take a look at the series of videos where Walter shows the whole process: from unboxing to playing games. Think of it as building a 150-piece LEGO kit. Step by step, you'll get there.
If, after watching the videos, you're still unsure, we recommend that you first test your soldering skills with a small project. For example, Conrad sells a little kit for practice. There is also a similar Velleman MK102 kit that you can buy at several places, such as Amazon. See the FAQ to read more on options if you're not comfortable soldering one yourself.
Last update: August 26, 2020